Above is the ad that was banned in the UK of Julia Roberts because of photoshop abuse.
"Misleading" isn't strong enough a word. Take a look at this image. Then take a look at another picture of Julia Roberts' face. I think the terms "ghostly" and "surreal" are more fitting.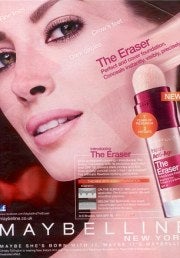 See Related Slideshow: 10 Tech Company Photoshop Disasters
One blogger has spoken out against the abuse and shown some great examples of this abuse in, "5 Blantant Cases of Photoshop Abuse."
Rea teens: Julia Bluhm, 14, stood outside the magazine's Midtown headquarters and led a protest against the industry's fervent use of Photoshop, before hand delivering her petition with 25,000 signatures.
Miss Bluhm said during the protest: 'I know much how much pictures in the media have an effect in the self esteem of girls and their body image.'
Please click to read Mashable's outstanding article about Julia's success, "Seventeen Agrees to Feature 'Real Girls' Following Online Petition." Also, "Meet Julia Bluhm, feminist media activist." And finally these are, "Posts tagged 'Julia Bluhm'.
I applaud all of today's men and women fighting the abuse of Photoshopping and more within the movement to present the real (girl) woman!